Built-in Type Vision Measuring Tool for Autonomous Setting of Initial Machining-origin
| | |
| --- | --- |
| Division | Advanced Manufacturing Systems Research Division > Department of Ultra-Precision Machines and Systems |
| Name | Dr. Donghoon Kim |
| Department | Department of Ultra-Precision Machines and Systems |
| Tel | +82 - 42 - 868 – 7148 |
| E-mail | kdh680@kimm.re.kr |
| Attachment | Download 001_Built_in_Type_Vision_Measuring_Tool_for_Autonomous_Setting_of_Initial_Machining_origin.pdf (0.2 KB) |
Chuck holder built-in machining origin for unmanned machining setup process
Automatic identification and simultaneous autonomous control module
Client / Market
Machining-tool manufacturer/Machine-tools manufacturer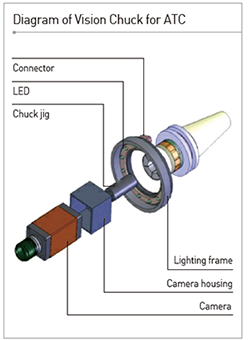 Necessity of this Technology
Need for a mechanism to control the visibility of the built-in tool holder structure
Automatic recognition & autonomous correction function/mechanism was developed where vision and lighting module is built in on the tool holder enabling on-machine measuring; automatic recognition of location and size of the specimen for machining and the z-axis auto-focusing function enables autonomous correction of the initial machining origin with 3-axis of width, length, and height to suit the changed specimen (compares not only the width/length vision measuring but also the thickness (height) of the material through visibility control)
To create a completely automatic line linked structurally to ATC, an exclusive tool for inserting into the tool (or chuck) holder and a hollow cylinder DSP board (designed to prevent eccentric force to suit the spindle machining tool structure) for lighting device control were developed, and the firmware software was developed, mounted, and built into the machine.
Regarding specification, CNC-linked autonomous identification function with the degree of precision of 0.09 mm and the sampling time within 1ms and CNC-linked auto-focusing control function were promoted to be applied.
Integrated chuck holder built-in module structure, the machining origin autonomous identification mechanism, and CNC-linked on-machine autonomous correction functions are required
Technical Differentiation
From the control aspects, 3-axis automatic identification measurement + Z-axis auto-focusing, autonomous correction control mechanism are linked (CNC-linked)
From the structural aspects, the remodeled machining tool holder built-in chuck type is applied.
From the mechanism aspects, the new concept of measurement identification and correction control through the visibility and lighting control is introduced.
From the interface aspects, wired/wireless data high-speed/high-resolution data collection and filtering is possible.
Vision measuring tool is made to be built into the device like the automatic tool changer (ATC)
The setup or the mounted location of the inserted processing product in the onmachine is detected by mounting the vision device onto the tool holder.
Machining origin automatic identification following change of the material is supported to realize unmanned machining through allowing the actual machine to judge and measure.
(Accuracy and productivity are improved by excluding human workers, reducing the setup time, and minimizing the error occurrence.)
Distinctiveness
Detail
Current Global Status
Goal of the Technology
Functional Aspect
CMeasurementhina
Touch sensor (only measurement)
Non-touch vision measurement and z-axis autofocusing (simultaneous measurement + correction)
Applicable machining
FMC machining
Both FMC/RMC machining
Related commercial items/ flexibility
No commercial item/No flexibility
Possibility of application, commercialization/removable design (original) response 1:N machining possible
Method
Operational aspect
Semi-automatic
ACTIVE TYPE Automatic and autonomous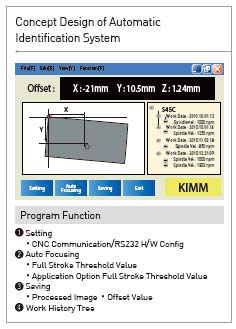 Excellence of Technology
The automatic machine tool automatically identifies the machining origin for initial machining (diversification of material) and reprocessing of existing processed product to rid of the time required for setting the machining origin at the jog mode for various forms and improve the setting accuracy of existing automatic machine tool that depend on the initial setting; productivity is enhanced through separate settings set automatically.
Excellence of the technology has been proven by publishing (1 author) several SCIlevel papers related or based on the technology on IEEE-ASME TRANSACTIONS ON MECHATRONICS (within top 5% of SCI), JMST, IJPEM, Key Eng. (published on SCIlevel journals multiple times)
Has over 20 years of research experience in machine tool intellectualization and IT integration.
Received the 2013 Minister of Science, ICT and Future Planning Award (Scientist of the Month Award), 2012 Korea Society of Mechanical Engineers Baekbong Technology Excellence Award, 2011 KIMM Academic Award, and 2007 ICROS Academic Award.
CURRENT INTELLECTUAL PROPERTY RIGHT STATUS
PATENT
TBuilt-in Type Vision Measuring Tool for Autonomous Machining Origin Setting (KR2013-0117848, US13/533061)/Item Positioning Device and Positioning Method (KR1106575)/Calibration Flaw Specimen Production Method (KR1140422)
KNOW-HOW
Machine-tools pattern-matching based machining-origin identification technology for processing machining-material change
Unmanned autonomous setup and measurement technology in machining process, etc.