A Core Technology for Fine Metal Formation Targeting for Flexible/ Stretchable Device and Display
| | |
| --- | --- |
| Division | Advanced Manufacturing Systems Research Division > Department of Ultra-Precision Machines and Systems |
| Name | Dr. Yongkin Kim, Dr. Seungman Kim, Dr. Junyeob Song (Director) |
| Department | Department of Ultra-Precision Machines and Systems, Advanced Manufacturing Systems Research Division |
| Tel | +82 - 42 - 868 – 7597, +82 - 42 - 868 – 7144 |
| E-mail | yjkim@kimm.re.kr, kimsm@kimm.re.kr, sjy658@kimm.re.kr |
| Attachment | Download 010_A_Core_Technology_for_Fine_Metal_Formation_Targeting_for_FlexibleStretchable_Device_and_Display.pdf (0.7 KB) |
Developing a new concept for High device performance/high flexibility The formation of Fine metal patterns(≤100 μm)for FHE(flexible hybrid electronics) and the fabrication of 3D step height metal interconnection
DI(direct imaging) technology for creating non-damaging fine pattern(≦100 μm)/pitch(≦20 μm) for stretchable device and display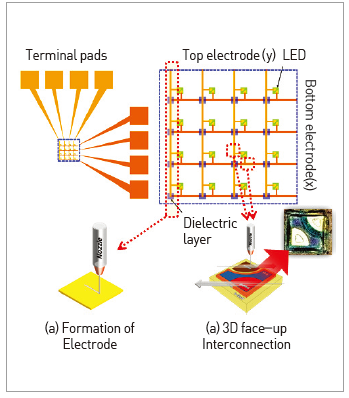 Client / Market
Technical field for FHE (flexible hybrid electronics)
Technical field for DI (direct imaging) fine pattern/pitch formation for non-damaging flexible/stretchable display areas
Necessity of this Technology
When using existing mass production MEMS Fab. process/equipment, the process cannot be performed if there is step height (≧5 μm) between the substrate and the thin chip (equipment / process compatibility issue).
n forming 3D interconnection, wire-bonding creates mechanical damage of less than 50 μm to the thin chip due to heat, pressure, and ultrasonic energy.
Absence of face-up 3D metal interconnection technology to fabricate fine pattern (≦ 100 μm) pitch (≦20 μm)
Absence of technology that can form flexible/stretchable pattern without damaging low Tg flexible/stretchable substrate (wiring printing and sintering technology)
Therefore, to overcome such problems, it is necessary to develop DI type nondamaging fine pattern/pitch creation technology.
Technical Differentiation
Technology to effectively form 3D interconnection masklessly without causing mechanical damage to the thin chip with thickness below 50 μm mounted on the flexible/stretchable substrate
Technology to create fine pattern (≦100 μm)/pitch (≦20 μm) with the DI (direct imaging) method
Technology to sinter ink material on the flexible/stretchable substrate without thermal damage
Technology for intrinsically/geometrically robust metal pattern formation for stretchable display
Technology to rework and repair for mass production yield improvement
Excellence of Technology
Formation of 100 μm×100 μm (thickness≈5 μm) micro-LED top & bottom electrodes and securing face-up 3D metal interconnection (line width ≦ 30 μm)
Securing DI micro metal pattern method when line width is below 10 μm
Establishment of database by ink material for overcoming 3D step height in the flat (0 μm) to 50 μm area
Securing sample production technology for micro step height (flat (0 μm) to 50 μm) control for DI process and ink property evaluation
Performance of laser sintering test for non-damaging ink sintering on polymer substrate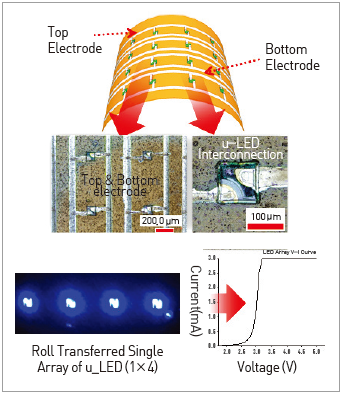 Current Intellectual Property Right Status
PATENT
Wearable Dry Patch Type Hybrid Substrate and Manufacturing Method (KR1756847)
Non-penetrating, Superhydrophobic Polyimide Film Manufacturing Method (KR1641207)
Elastic Device Manufacturing Method and Elastic Device Manufactured with the Method (KR2017-0133265)
Electrode Pattern Formation Using Laser Sintering and Electrode Pattern Formation System for the Method (KR2017-0060814)
KNOW-HOW
Non-damaging, DI fine pattern/pitch formation technology
Face-up 3D step-covered metal interconnection technology
Intrinsically/geometrically flexible or stretchable metal formation technology
Repair and maskless process technology for yield improvement