Ultra–thin Flexible Semiconductor Package Interconnection and 3D Stack Technology
| | |
| --- | --- |
| Division | Advanced Manufacturing Systems Research Division > Department of Ultra-Precision Machines and Systems |
| Name | Dr. Junyeob song (Director), Dr. Jaehak Lee |
| Department | Advanced Manufacturing Systems Research Division, Department of Ultra-Precision Machines and Systems |
| Tel | +82 - 42 - 868 – 7144, +82 - 42 - 868 – 7362 |
| E-mail | sjy658@kimm.re.kr, jaehak76@kimm.re.kr |
| Attachment | Download 009_Ultra_thin_Flexible_Semiconductor_Package_Interconnection_and_3D_Stack_Technology.pdf (1.4 KB) |
Interconnection/stacking technology for ultra-thin flexible semiconductor package with flexible substrate using polymer elastic bump, neutral plane design for package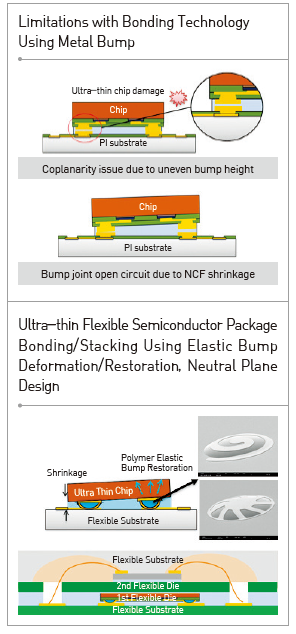 Client / Market
Semiconductor manufacturer (Foundry, OSAT (Outsourced Semiconductor Assembly and Test))
Display manufacturer
Necessity of this Technology
Along with development of wearable device performance and rapid growth of its market, the need for ultra-thin, high-performance, high-flexibility, and humanfriendly flexible semiconductor package has increased.
To create a flexible semiconductor package, a thin silicon chip with the thickness between 20 to 50 μm needs to be bonded on a flexible substrate.
Conventional bonding process using solder bump to bond the chip under high temperature has a problem of flexible substrate damage and thin silicon chip damage due to thermal stress.
With another bonding technology, a rigid metal bump can be bonded with a pad using NCF adhesive, however, it leads to issues such as chip damage due to stress concentration caused by uneven bump height, joint coming off due to NCF shrinkage, and declined flexibility due to hard joint.
Technical Differentiation
This technology uses the wafer transfer technology to design the neutral plane for the chip to minimize stress while bending and make handling chip during bonding easy to enable production of ultra-thin flexible silicon chip that is thinner and more flexible than the conventional chip.
By applying the polymer elastic bump structure, which boasts easier elastic deformation and restoration, for the thin flexible silicon chip, damage to the thin flexible chip from uneven bump height during chip bonding is minimized with the elastic deformation and stress relaxation.
Also, this bonding technology has excellent reliability and low contact resistance as the contact between the bump and the pad is maintained with the elastic restoration even when the adhesive shrinks. With the flexible bonding interface composed of polymer bump and adhesive, this technology is able to realize higher flexibility compared to conventional bonding technology.
Excellence of Technology
With wafer transfer technology, neutral plane for chip/package is designed to allow handling and bonding of thin flexible chip with thickness less than 10 μm without damage.
By applying the polymer elastic bump structure that boasts easy elastic deformation and restoration to thin flexible silicon chip, a flexible semiconductor package with bending radius of 5 mm and bending fatigue of over 10,000 cycles was created.
Using the bonding technology above, the 3D ultra-thin flexible semiconductor package trial product was manufactured to prove the technology.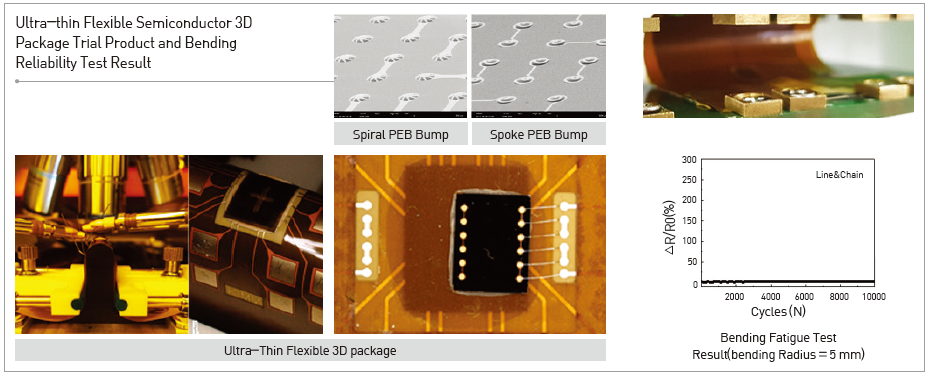 Current Intellectual Property Right Status
PATENT
Face-down Type Flexible Electronic Device Manufacturing Method and Flexible Electronic Device Manufactured Using the Method (KR1511023)
KNOW-HOW
Polymer elastic bump fabrication technology
Flexible chip neutral plane design and thinning technology
Thin wafer transfer technology for neutral plane design
Flexible semiconductor package 3D stacking and low-temperature bonding technology