Microneedle Manufacturing Technology
| | |
| --- | --- |
| Division | Nano-Convergence Manufacturing Systems Research Division > Department of Nano Manufacturing Technology |
| Name | Dr. Sunghwan Chang |
| Department | Department of Nano Manufacturing Technology |
| Tel | +82 - 42 - 868 – 7793 |
| E-mail | schang@kimm.re.kr |
| Attachment | Download 087_Microneedle_Manufacturing_Technology.pdf (0.7 KB) |
Method of manufacturing microneedle and needle array that reduces pain for users and improves solubility in the body
Client / Market
Beauty and cosmetics, plastic surgery, patch type treatment (vaccine, detox kit, etc.)
Necessity of this Technology
Microneedle is a technology that has been developed since early 2000s in painreducing blood gathering and medicine injection methods.
The initially developed micro needle was mainly made of metal material and silicone, and it was aimed to reduce the injection pain by simply reducing the size of the injection needle, but it is difficult to commercialize it because of reliability and manufacturing complexity.
In recent years, as the material of the microneedle has been changed into a way to dissolve in the human body, the microneedle has become a new platform that opens up various possibilities, ranging from tools to reduce pain to beauty and cosmetics, plastic surgery, and dry patch vaccines.
However, there is a limit to the manufacturing technique of making a new type of micro needle. It is difficult to be technically protected because there is little technical differentiation between platforms.
Technical Differentiation
This technology makes microneedle directly with the stereolithography method or makes the mold for microneedles.
In order to avoid the conventional manufacturing method of the micro needle, the structure of the metal mesh is placed on the light-sensitive polymer. It is a technique to make the prototype of the micro needle by adjusting the path of light by collecting light by using liquid droplets formed by surface tension on the mesh after spraying the liquid on the metal mesh.
Microneedle can be made directly by adjusting the polymer to be photopolymerized. Also, the metal mesh itself can be used as a seed to make a mold of a microneedle by plating, and a metal can be deposited on the circular shape of the microneedle to be used as a mold for a microneedle after plating. The prepared molds were filled with functional polymers, and after the curing, the molds were peeled off to produce micro needles.
By adding a design to the microneedle mold, a hollow microneedle can be created to have desired amount of functional ingredient quickly dissolve in body with the polymer.
Excellence of Technology
Original technology that broke away from existing microneedle manufacturing method for creativity issue.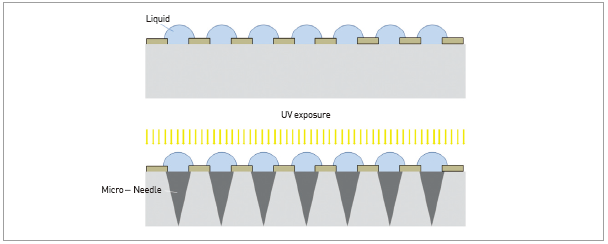 Mechanical structure-based solubility enhancement technology that preempts demand due to changes in usage of micro needle array

Current Intellectual Property Right Status
PATENT
Microneedle Mold Manufacturing Method (KR 10-2016-0119783) and 1 other