High–performance Turbine Technology
| | |
| --- | --- |
| Division | Innovative Energy Machinery Research Division > Department of Thermal Energy Solutions |
| Name | Dr. Bumseog Choi, Dr. Hyungsoo Im |
| Department | Department of Energy Conversion Systems |
| Tel | +82 - 42 - 868 - 7286 |
| E-mail | bschoi@kimm.re.kr, limbo999@kimm.re.kr |
| Attachment | Download 058_High_performance_Turbine_Technology.pdf (1.3 KB) |
Turbine technology for power generation using unutilized energy (waste heat and renewable energy, etc.)
Gas turbine (UMGT, MGT, GT) technology development
Client / Market
Power plant turbine manufacturers using waste heat and renewable energy
Military and industrial aircraft turbine manufacturers
Gas turbine companies
Necessity of this Technology
This technology requires multiple technologies from various fields and extensive research experiences for product development. (design: aerodynamics, structure, rotordynamics, heat transfer/manufacturing & test: material selection, manufacturing management, assembly, performance test)
There are continued demands for turbine development to utilize in new fields, and technologies derived from the turbine technology can be used to various applications in related industries.
The turbine technology of KIMM gas competitiveness to global leaders in power generation field utilizing the waste heat and renewable energy.
Technical Differentiation
Equipped with total solutions of turbine design technology (aerodynamics, structure, cooling, rotordynamics, mechanical design) to satisfy the target performance under various operating conditions
Equipped with the secondary flow management technology to keep stable operation of the turbine under high temperature, high pressure, and high speed conditions
Equipped with turbine operation technology at design and off-design points
Miniaturization of turbine size and weight is possible depending on the requirement of applications. The technology can be applied to generate high quality energy from typical energy sources (e.g. ultra micro gas turbine, ocean thermal energy conversion turbine, etc.)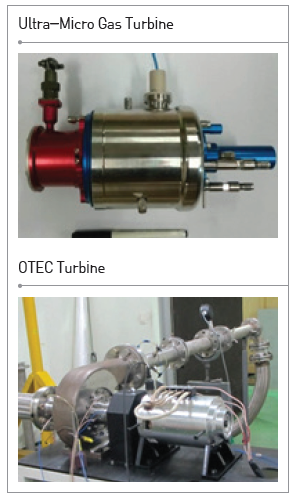 Excellence of Technology
ORC (organic Rankine cycle) turbine for waste heat recovery power generation: The 200 kW ORC turbine prototype for power generation was developed by using own domestic technology, and Korea became the 4th country in the world having the midsize-class ORC technology. Field tests using actual waste heat were conducted at two domestic sites, and the performance test results showed thermal efficiency over 10%, which proved world's top-class technology.
Ocean thermal energy conversion (OTEC) turbine: The first 20 kW OTEC turbine in Korea was developed. The target performance was obtained in the verification test using deep sea water (Deep Seawater Center, Goseong, Gangwon-do)
Ultra micro gas turbine (UMGT): The test result of the ultra-microturbine generator of KIMM was the first report in the world for below 1 kW class. UMGT technology of KIMM using liquid fuel is world-first and has world-top level.
Turbine for supercritical CO2 generation: A drive turbine driving CO2 pump and power turbine for supercritical 200 kW CO2 power system in Korea were developed for the first time.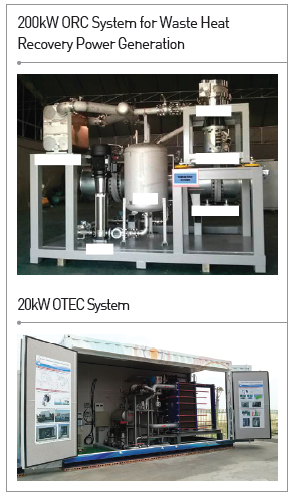 Current Intellectual Property Right Status
PATENT
Gas Turbine Blade (KR2016-0061918
Self-driven Testing Apparatus (KR1501007)
Turbine for Organic Ranking Cycle (KR1332632)

Gas Turbine Testing Apparatus and Testing Method Using Thereof (KR1757986)

Ultra Micro Gas Turbine with Thermal Stress Damage Prevention Design (KR1634876)
Ultra Micro Gas Turbine with Bearing Cooling Part (KR1634875) and 14 other patents
KNOW-HOW
Gas turbine (UMGT, MGT, GT) aerodynamic design, thermal stress analysis, and
turbine stabilization technology
Waste heat recovery power generation turbine (ORC, SORC, OTEC, SCO2) aerodynamic
design and thermal stress analysis technology
High-performance turbine system mapping technology
High-performance turbine component production, tolerance management,
assembly technology
High-performance turbine performance test and analysis technology
[Note]
ORC: Organic Rankine Cycle / SORC: Super Critical Organic Rankine Cycle
OTEC: Ocean Thermal Energy Conversion / SCO2: Super Critical CO2
UMGT: Ultra Micro Gas Turbine / MGT: Micro Gas Turbine
>