2D Heat Flux Gauge Block
| | |
| --- | --- |
| Division | Innovative Energy Machinery Research Division > Department of Thermal Energy Solutions |
| Name | Dr. Jungho Lee |
| Department | Department of Energy Conversion Systems |
| Tel | +82 - 42 - 868 - 7986 |
| E-mail | jungho@kimm.re.kr |
| Attachment | Download 051_2D_Heat_Flux_Gauge_Block.pdf (3.2 KB) |
Measuring the surface heat flux during cooling/quenching process for steelmaking
Client / Market
Extreme environment sensor, steelmaking company
Necessity of this Technology
In TMCP (Thermo-Mechanical Controlled Process) steel production, the direct contact measurement of the surface heat flux during steel cooling is very difficult due to a mixed steam and vapor droplets. The conventional high-temperature cooling experiment is used to measure the internal temperature of hot steel block that can be used only once.
Technical Differentiation
The two-dimensional high-temperature heat flux gauge block is made of SUS316 and SUS310S and is composed of 16 cartridge heaters and a bunch of thermocouples to measure the internal temperature during the cooling and/or quenching process for steelmaking industry. This heat flux gauge is enabled to measure the heat flux up to 1,000℃. The merit of this heat flux gauge block is that it is possible to use up to 10 times repeatedly. The heat flux measurement is achieved to solving the two-dimensional inverse heat conduction based on the measured internal temperatures.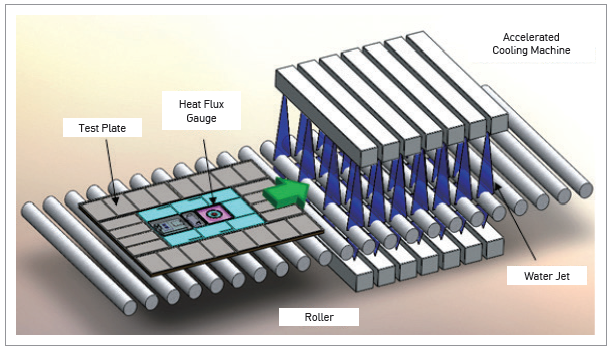 Excellence of Technology
It consists of the first temperature measuring part with multiple measuring points
along the thickness direction. The second temperature measuring part for measuring
heat flux of the steel block in the radial direction is the special feature.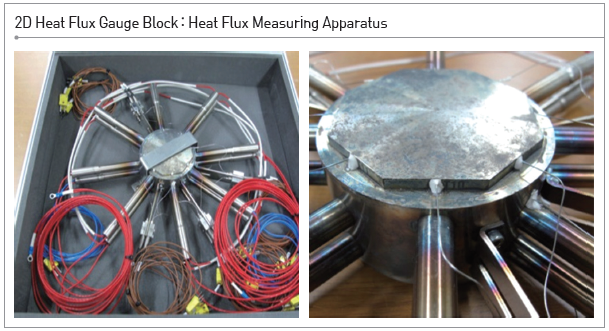 CURRENT INTELLECTUAL PROPERTY RIGHT STATUS
PATENT
Measuring Apparatus with Cooling Function (KR1168385, JP5550154)
Double Structure Heat Flux Measuring Gauge (KR1221972)
2D Heat Flux Measuring Gauge (KR1221966, PCT/KR2013/003254)
Heat Flux Measuring Apparatus at Heat Cooling Process and Heat Flux Measurement Method Using the Apparatus (KR1013515)
High Temperature Steel Plate Heat Flux Gauge for Cooling Process (KR0991107)
Cooling Thermal Properties Measuring Apparatus for Thick Plate Rapid Cooling Process (KR0912240)
Heat Flux Measuring Apparatus for Steel Manufacturing Process and Heat Flux Measuring Method Using the Apparatus (KR0955461)