Diesel Particulate Filter Using Electrostatic Cohesive Metallic Filter
| | |
| --- | --- |
| Division | Eco-Friendly Energy Conversion Research Division > Department of Sustainable Environment Research |
| Name | Dr. Yongjin Kim, Dr. Hakjoon Kim |
| Department | Department of Environmental Machinery |
| Tel | +82 - 42 - 868 - 7475 |
| E-mail | yjkim@kimm.re.kr, diayolk@kimm.re.kr |
| Attachment | Download 110_Diesel_Particulate_Filter_Using_Electrostatic_Cohesive_Metallic_Filter.pdf (0.2 KB) |
Diesel particulate filter using a metallic filter that collects scattered μm-size diesel PMs that are electrically charged by the corona discharge, collected in the collector and agglomerated, and intermittently scattered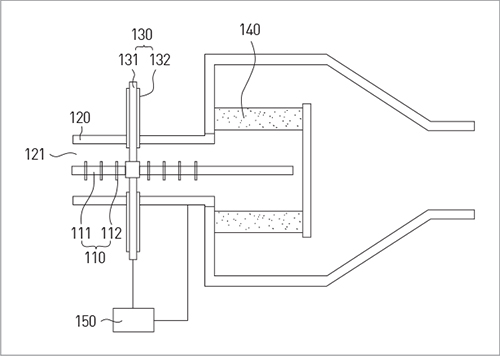 Client / Market
After-treatment system against Diesel PMs for diesel vehicles and large diesel engines for ships and power generation
Necessity of this Technology
It is necessary to develop an electrostatic filter with high thermal and mechanical durability and less pressure loss.
A combination of a metallic filter with an electrostatic method with excellent PM collection efficiency based on PM number concentration is necessary.
Existing ceramic filter type diesel particulate filter has a high pressure loss and low thermal and mechanical durability. A metallic filter has lower pressure loss and higher thermal and mechanical durability compared to a ceramic filter, but its PM collection efficiency is low. In particular, it can barely treat fine particles with a size below 50 μm
A filtration technology that uses a metallic filter with low pressure loss and high thermal and mechanical durability but has higher ultrafine PM collection efficiency is needed.
Technical Differentiation
Combination of a metallic filter with an electrostatic precipitation method can solve the current ceramic and metallic filters. The electrostatic method charges nm size particles and agglomerates the small particles on the collection surfaces up to micro size. The metallic filter can remove the enlarged particles easily when they are escaped from the collection surface of the electrostatic precipitator. This combination is very efficient against nm size particles with low pressure loss, high thermal and mechanical durability
Existing diesel particulate filter using a metallic filter has a great durability, and it was considered as an alternative to a ceramic filter, but it could not collect nm sized particles, therefore it could not meet the diesel PM emission regulation over Euro 6 standard and could not fulfill the regulation regarding number concentration standard at all.
A combined metallic filter with the electrostatic agglomeration is a novel convergence technology that electrically collects ultrafine particles and agglomerate them into a size that could be treated by a metallic filter to make use of the benefits of the metallic filter as well as meet particle number concentration regulation.
Excellence of Technology
Corona charger and collector is installed in front of the metallic filter to primarily electrically charge ultrafine particles to collect in the collector. The particles collected in the collector continue to grow with the electrostatic cohesion, and once they are coarsened, they are scattered with electrical and physical shock into the downstream of the charger and collector, and coarsened particles are collected with the metallic filter installed in the downstream of the charger and collector.
- E lectrostatically combined metallic filter shows a 1/4 of pressure loss compared to a ceramic filter and was able to reduce the PM emission under the ETC mode operationthe operation mode for international standard-to 1/3 of that of a metallic filter. And over 95% of the number concentration emission was removed.
By publishing 3 SCI papers and 1 paper in Korean in 'IEEE Transactions on Industrial Applications' and Transactions of the Korean Society of Automotive Engineers, the excellence of the technology was proven.
The senior researcher has over 20 years of research experience.
- 10th Outstanding Environmental Technology Award (2012, Ministry of Environment)
- 2012 KSME Technology Award
- Director of Environment Systems Research Division in KIMM (2008 to 2011)
- Vice-chairman of Korean Association for Particle and Aerosol Research (2008 to 2012)
- Vice-chairman of KSME (2011 to present)

Current Intellectual Property Right Status
PATENT
Metal Filter Particulate Matter Removal System Using Centrifugal and Electrostatic Forces (KR0865152)
Automatic Regeneration Electrostatic Automobile After-treatment System with Electrical Heater (KR0998445)
Electrostatic Precipitator with Structure for Insulating and Fixing Electrode Rod (KR1066018)
Apparatus for Purifying Exhaust Gas (KR1152337)
Oxidation Catalytic Apparatus for Purifying Exhaust Gas (KR1166688)
Exhaust Gas Reduction Apparatus Comprising Electric Heating Type Foam Filter (KR1218587)
Electric Charging Type Purifying Exhaust Gas (KR1339085)
Diesel Particulate System Using of Electrolytic Protection Type Diesel Particulate Filter (KR1383309)
Electrostatic Filtration Device with Foam Filter and Rod Type Electrode Combined with Wire (KR1453498)