Biocrude-oil Production System
| | |
| --- | --- |
| Division | Eco-Friendly Energy Conversion Research Division > Department of Zero-carbon Fuel and Power Generation |
| Name | Dr. Yeonseok Choi |
| Department | Department of Clean Fuel & Power Generation |
| Tel | +82 - 42 - 868 - 7344 |
| E-mail | yschoi@kimm.re.kr |
| Attachment | Download 115_Bio_crude_Oil_Production_System.pdf (1.4 KB) |
Bio-crude oil production apparatus, system, and method for efficient bio-crude oil production from biomass using fast pyrolysis method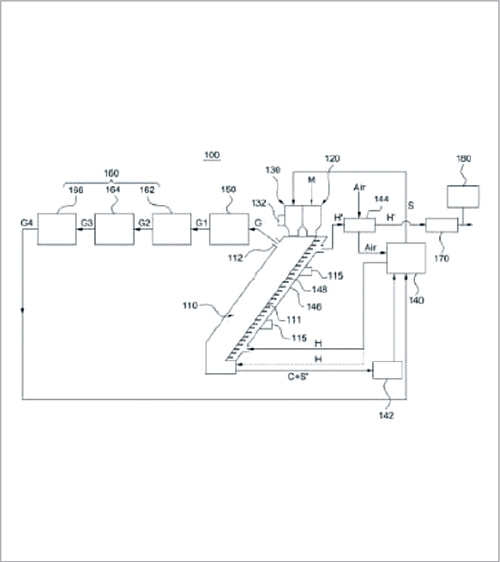 Client / Market
Bioenergy-related company
Necessity of this Technology
Bubbling-fluidized-bed system for bio-crude oil production requires a large amount of fluidized gas for sand fluidization, so it needs large size of reactor and pipe with expensive installation cost. Moreover, a lot of undesirable charcoal remains in bio-crude oil because the pyrolysis vapor flows out with bio-char prior to the separation process.
Technical Differentiation
Fast pyrolysis of biomass using this technology does not require the fluidized gas supply, so the facility size is reduced and the installation cost becomes cheaper.
Fast pyrolysis of biomass using this technology can control heat and mass transfer optimally to maximize the bio-crude oil yield and to produce high quality bio-crude oil with less charcoal.
Bio-crude oil can be combined to bio-refinery industry, and enable the active coping with certified CO2 emission reduction due to its carbon neutrality.
This bio-crude oil production system has a simpler structure compared to existing bubbling fluidized bed, circulating fluidized bed reactors, therefore its size and construction cost can be reduced to 2/3 level.
Pyrolysis-vapor and bio-charcoal are separated during the bio-crude oil production process, and this allows the production of bio-crude oil with high quality.
It does not use carrier gas which affects the reactor operation condition, which enables an easy plant operation.
Excellence of Technology
Over 10 papers on this technology were published in international journals, and related patents were registered in 7 countries.
Several delegations from Philippines, Cambodia, Rwanda, and Ghana have visited this plant, and they showed high interests in the utilization of this technology in their countries.
Performance test in pilot plant of 20 kg/hr showed the bio-crude oil yield of 65% that is comparable to advanced countries. Semi-commercial scale plant of 200 kg/ hr, largest in Korea, is under construction.
Patents for bio-crude oil manufacturing apparatus, bio-crude oil manufacturing system and method were registered in Korea and abroad (USA, Canada, China, Japan, Germany, Finland, Sweden).

Current Intellectual Property Right Status
PATENT
Device for Manufacturing Bio-oil, System for manufacturing Bio-oil and Method for Manufacturing Bio-oil Using the Same (KR0946714, US9005313, CA2762961, JP5633828, CN102449117, EP10780769.5)
Fast Pyrolysis Reactor and Biocrude-oil Manufacturing System Using the Same (KR1068748)
Apparatus for Manufacturing Bio-oil Using Fast Pyrolysis of Fluidized Bed (KR1285879)
Apparatus for Collecting Bio-Steam and Apparatus for Manufacturing Bio-oil Having the Same (KR2012-0113240)
Condensing Device (KR1175094)
Biocrude-oil Manufacturing System with Improved Fluidization and Heat Exchange (KR2014-0026713)
Biocrude-oil Manufacturing System with Multi-stage Condensation (KR20140026716)