Sound–absorbing and Insulation Metamaterials
| | |
| --- | --- |
| Division | Mechanical Systems Safety Research Division |
| Name | Dr. Hyun-Sil Kim |
| Department | Mechanical Systems Safety Research Division |
| Tel | +82 - 42 - 868 - 7461 |
| E-mail | hskim@kimm.re.kr |
| Attachment | Download 133_Sound_absorbing_and_Insulation_Metamaterials.pdf (2.7 KB) |
Low-frequency sound-absorbing structure using metamaterials
Client / Market
Soundproof design for transportation systems (automobile, ship, aircraft, etc.)
Noise barrier for roads, substations, etc.
Sound absorption/insulation materials for buildings

Necessity of this Technology
Among noise from wind power blade noise, floor impact noise, HVAC noise, transformer noise, and exhaust noise from cars and ships, low frequency noise between 10 to 200 Hz not only annoys people, but also may intimidate structural stability, and there is a need for soundproof measure for such noise.
Conventional low-frequency noise-reduction method is increase of the thickness of the sound-absorbing materials.
However, an effective low-frequency noise controlling technology is needed.
Technical Differentiation
Metamaterial sound-absorbing structures could be built with thin metals or plastics, so that they are light and could be price-competitive compared to the conventional materials.
Existing sound-absorbing materials like conventional porous materials suffer from short durability problem due to dust, humidity, etc.
Unlike conventional sound-absorbing materials, metamaterial can be designed to be effective for a specific frequency range, and their weight and size can be reduced while boasting excellent performance.
Excellence of Technology
Low-frequency sound-absorbing structure
Provides light-weight sound-absorbing/insulating material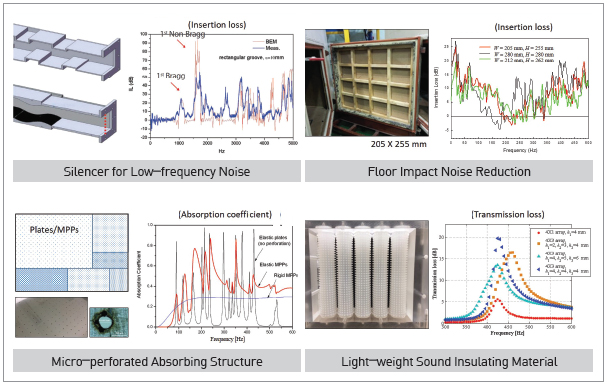 CURRENT INTELLECTUAL PROPERTY RIGHT STATUS
PATENT
Low Noise Room Unit (KR2013-0015118)
Duct Silencer with Periodic Wrinkled Surfaces for Reducing Noise Having Variable Frequency (KR1228403)
Sound Absorption Type Soundproofing Panel (KR0400886)
Sound Absorbing Device of Round Soundproof Wall (KR0189328)
The Composite Panel for Improving Sound Insulation Performance (KR1158108)
Low Noise Ceiling System for the Impact Noise (KR1244461)
Sound Absorbing Cell and Sound Absorbing Structure Containing the Same