Floating Offshore Wind Turbine Dynamic Analysis Program–WindHydro
| | |
| --- | --- |
| Division | Mechanical Systems Safety Research Division > Department of System Dynamics |
| Name | Dr. Jinseop Song |
| Department | Department of System Dynamics |
| Tel | +82 - 42 - 868 - 7442 |
| E-mail | jssong@kimm.re.kr |
| Attachment | Download 135_Floating_Offshore_Wind_Turbine_Dynamic_Analysis_Program_WindHydro.pdf (1.0 KB) |
Coupled aero-hydro-structural-servo-dynamic analysis software for floating offshore wind turbine
Client / Market
Research, design, manufacturing company of large wind turbines.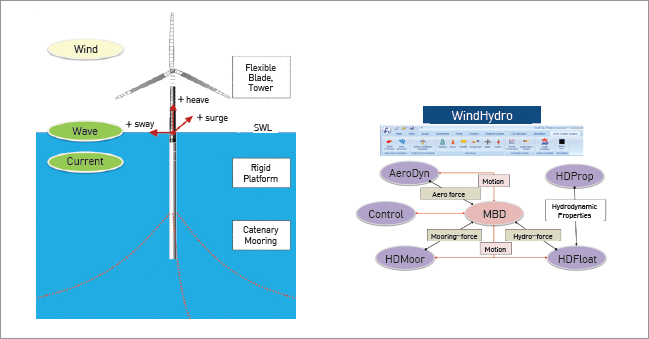 Necessity of this Technology
A reliable dynamics analysis is required for research and design of large wind turbines. A reliable analysis software is essential to develop efficient and advanced design technology.
There are considerable number of programs that could individually perform dynamics analysis for onshore or offshore wind turbine or hydro-kinetic analysis for floating marine construction, but for an offshore floating wind turbine, there are not many programs that could perform coupled aero-hydro-structural-servo-dynamic analysis.
Therefore, a program needs to be developed to reflect the demands of analysis from the research and design in the floating wind turbine field.
Technical Differentiation
The cost and time for test and demonstration can be minimized for various conditions to be considered in the design stage, and the optimal design of the system can be achieved.
For floating wind turbines, the system reliability can be enhanced by pre-checking various environments such as wind, wave, tidal current, and earthquake and possible accidents like system breakdown and collision through simulation and reflecting them in the design.
WindHydro was developed to provide coupled aero-hydro-structural-servodynamic analysis specialized for wind turbine and ocean engineering-based floating body movement analysis program.
By organizing the structure modeling not based on modal model but nodal model, the effect on increase in nonlinearity from enlargement of wind turbine can be obtained.
As WindHydro supports the graphical user interface (GUI), a beginner can easily be accustomed to the analysis sw.
As WindHydro was developed based on a commercial multibody dynamics program, if necessary, an analysis including a flexible model based on finite element model can be performed.
As it is developed and maintained with domestic technology, addition of analytical function desired by domestic research and industrial fields and technical support are easy.
Excellence of Technology
Dynamic analysis technology for floating wind turbines is being developed and verified by top global institutions. FAST developed by NREL, is the global leader in related technology. WindHydro was compared with FAST under various conditions to prove its reliability.

CURRENT INTELLECTUAL PROPERTY RIGHT STATUS
PATENT
Calculation program for the wave force acting on offshore wind power generation system Ver.2.0 (C-2012-020195)
RAO calculation program in the time domain for regular wave of offshore wind turbine Ver.1.0 (C-2012-009716)
RAO calculation program in the frequency domain for regular wave of offshore wind turbine Ver.1.0 (C-2012-009715)
Calculation program for force and moment from mooring of floating offshore wind turbine Ver.1.0 (C-2012-009714)
Calculation program for the tidal current force acting on offshore wind turbine Ver.1.0 (C-2012-009713)
Calculation program for the wave force acting on offshore wind power generation system Ver.1.0 (C-2012-009712)
Analysis program for Rotor blade characteristic of wind turbines Ver.1.0 (C-2012-00711)
Controlling software module of wind turbines Ver.1.0 (2011-01-123-005591)