Hybrid Mount System Technology for Improvement of Vibration Reduction Performance
| | |
| --- | --- |
| Division | Mechanical Systems Safety Research Division > Department of System Dynamics |
| Name | Dr. Seok Jun Moon |
| Department | Department of System Dynamics |
| Tel | +82 - 42 - 868 - 7428 |
| E-mail | sjmoon@kimm.re.kr |
| Attachment | Download 136_Hybrid_Mount_System_Technology_for_Improvement_of_Vibration_Reduction_Performance.pdf (1.7 KB) |
Technology to design and fabricate a novel mount system by integrating a controllable actuator to enhance the performance of the mount installed under an apparatus for vibration reduction
Client / Market
Vibration proof mount manufacturer, manufacturer of device requiring low noise and low vibration, defense industry, precision machinery industry, aerospace industry, etc.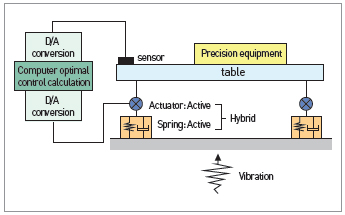 Necessity of this Technology
Passive mount that is currently in use has satisfactory vibration reducing performance, but a special industries demand development of a new mount with vibration reduction performance improved by 10 dB or higher.
A newly developed technology needs to reflect dynamic properties of active elements that could improve the vibration reduction capability by 10 dB or higher compared to existing mount while combining with passive elements.
To develop a new mount demanded by the market, a technology to integrate existing passive mount with an actuator that allows various controls is needed. However, the passive mount and the actuator have their own dynamic properties that the design and fabrication technology to be developed needs to accurately grasp them and create a mount that could realize the characteristics the market demands.
Technical Differentiation
A low-noise, low-vibration high-value added apparatus can be developed, and a product for the defense market that demands special functions can also be developed.
A new product that can fulfill the vibration limit condition of micro/nano-devices can be developed.
This technology is appropriate for customized products rather than ready-made products, and added-value can be increased with it.
Equipped with technology to develop optimized products that could fulfill various requirements.
Compared to competing technologies, it is considered superior in terms of cost.
Excellence of Technology
A mount installed under an equipment supports the dead load of the equipment and protects the equipment from external vibration to support the equipment to perform its original function.
Along with advancement of industries, development of a mount with better vibration proof or shock resistant performance is required, and there is an increasing demand for a hybrid mount that combines the passive mount and the active actuator.
A hybrid mount that combines the passive air spring with a piezoelectric actuator, an electromagnetic actuator or a pneumatic control actuator has been attempted.
In the automobile industry, a hybrid mount that combines a passive rubber mount with an electromagnetic actuator or MR/ER-compatible fluidic actuator is being developed.
For the field to be applied, different types of hybrid mount need to be developed, and a hybrid mount development technology that considers the characteristics of a passive mount and an active actuator from the design stage is demanded.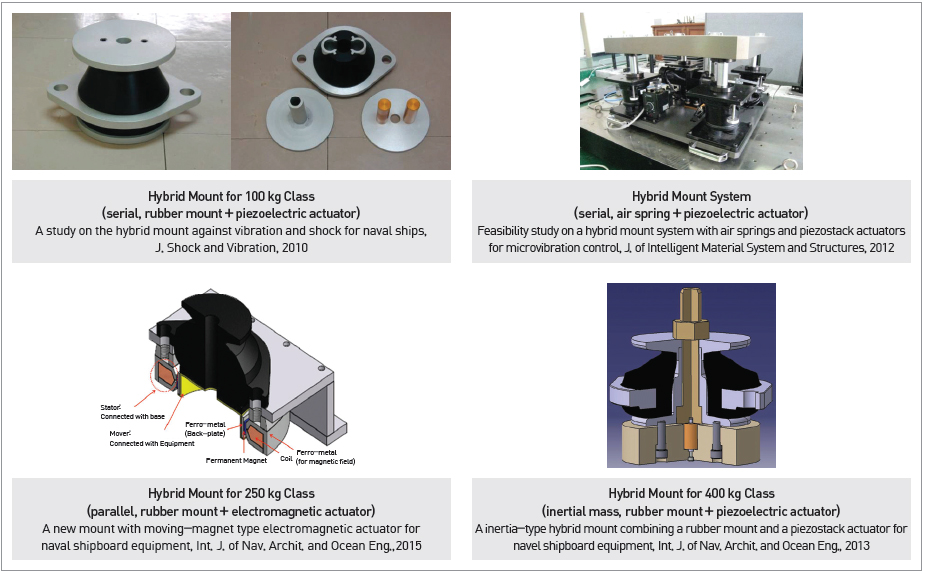 CURRENT INTELLECTUAL PROPERTY RIGHT STATUS
PATENT
Vibration Absorbing Device in Type of Active Control (KR1373843, FR12/59138, GB1217352.2, US13/628211)
Active Control Type Vibration Absorbing Device Having Structure of Magnetic Flux Leakage Reduction (KR1378034)
Inertia Type Hybrid Mount for Vibration and Shock Suppression (KR1103059)
Hybrid Electromagnetic Actuator Against Microvibration (KR1084987)
Vibration Damping Device and Mount System Having the Same (KR1263259)