On–site Diagnostic Molecular Diagnosis Apparatus
| | |
| --- | --- |
| Division | Daegu Research Center for Medical Devices and Green Energy > Department of Medical Device |
| Name | Dr. Ohwon Kwon |
| Department | Department of Medical Device |
| Tel | +82 - 53 - 670 – 9001 |
| E-mail | owkwon@kimm.re.kr |
| Attachment | Download 152_On_site_Diagnostic_Molecular_Diagnosis_Apparatus.pdf (1.4 KB) |
All-in-one molecular diagnosis cartridges and analysis equipment technology allowing for quick on-site diagnosis of infectious disease (swine flu, MERS, STD) by a semi-professional
Client / Market
In Vitro diagnostic, molecular diagnosis market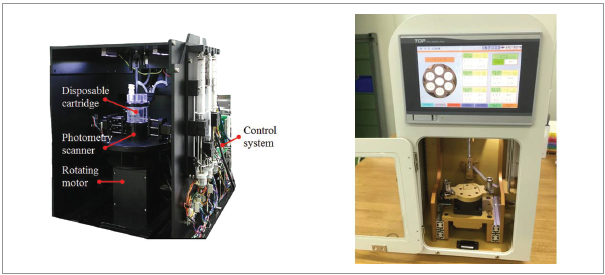 Necessity of this Technology
The occasions calling for quick diagnosis due to the emergence of new virus diseases are increasing, and the demand for the DNA test for disease prevention has increased.
The DNA test for detecting virus mostly uses the PCR method or isothermal amplification, so the test is conducted with an electrophoresis tool or a real-time PCR machine. However, out of the necessity at the field, a simpler, automated DNA test is demanded.
A lot of time is consumed for pre-treatment of a specimen, mixing of a specimen and a reagent, and the residue treatment. And the existing specimen pre-treatment device has a complex structure with high production cost and consumable expenses. While treating a large amount of specimens at once, the specimen could possibly be contaminated.
Technical Differentiation
It is mechanically simple and effectively handles the specimen pre-treatment.
It automatizes the entire process – nucleic acid extraction, amplification and detection
Nucleic acid extraction is easy. (30 minutes. 60 to 90 minutes for testing)
It includes the chambers that store reagents to be mixed with the specimen, and the reagents are connected to the specimen pre-treatment device, where specimens are discharged from each chamber in order according to the pre-treatment process order. This simplifies the pre-treatment device and integrates the nucleic acid amplification and detection device, which the nucleic acids extracted from the specimen flow in.
Process Order
Component/Process
Additional Explanation
Nucleic acid extraction
Modify disposable cartridge and joint design Optimize cartridge driving module
Nucleic acid extraction time < 30 min.
*May differ depending on the test subject and item
Nucleic acid amplification
Precise temperature control (heating/cooling) module Prototype modification
Nucleic acid amplification, detection time < 30 min
*May differ depending on the test subject and item
Nucleic acid detection
Diagnosis analysis
Integrated system for nucleic acid extraction, amplification, and detection and control and analysis assessment
Target test time < 40 to 60 min
Excellence of Technology
Prototype process chart
Through the internal research project and the government-entrusted assignment, the prototype for the fully automatic nucleic acid extraction with the all-in-one cartridge and the single channel isothermal (61 degree) amplification and detection was produced and its performance was verified.
The basic system for multiplexing PCR through multichannel optical modules was completed.
CURRENT INTELLECTUAL PROPERTY RIGHT STATUS
PATENT
Sample Preparation Device (KR1244467)
CN201110428842.3)
Device for Automatically Analyzing Nucleic Acid and Opening and Closing Device Thereof (KR1487537)
A Cartridge for Automatically Analyzing a Nucleic Acid (KR1512161)
Cartridge for Sample Preparation (KR1630784)
Cartridge for Sample Preparation and Collected Acid Analysis (KR1703992)