Automatic Kinesimeter – the 'Smartization' of the Human Exercise Devices
| | |
| --- | --- |
| Division | Daegu Research Center for Medical Devices and Green Energy > Department of Medical Robotics |
| Name | Dr. Yongkoo Lee |
| Department | Department of Medical Assistant Robot |
| Tel | +82 - 53 - 670 – 9021 |
| E-mail | woohs@kimm.re.kr |
| Attachment | Download 157_Automatic_Kinesimeter___the_'Smartization'_of_the_Human_Exercise_Devices.pdf (3.3 KB) |
Mechanical ICT integration-customized quantitative exercise management platform technology
Client / Market
Ordinary person, patient needing remedial exercise, sports goods maker, fitness gym, sports facility, hospital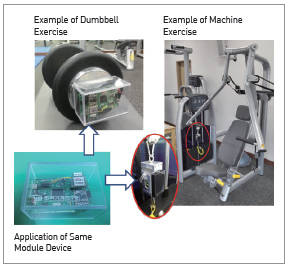 Necessity of this Technology
In some cases, a trainer or sports curer directs and records exercises when exercising at gyms or hospitals, but most of the time, a person randomly decides on the type and quantity of exercise without a systematic management.
It is difficult to record how and how much a patient with an exercise prescription exercised properly.
High-priced automatic exercise equipment with a kinesimeter are being released, but due to inconvenient use and a high price, they are not supplied to general sports facilities.
Technical Differentiation
At a low cost, a systematic and precise exercise management is possible.
The public and professional athletes and patients needing remedial exercise can exercise with a systematic exercise prescription and treatment at a community sports facility.
The records of exercise can be used as motivation.
This device can be attached to an existing sports equipment when needed.
By linking with the member management system, the members can check their exercise history online on their own and receive additional coaching.
Can be provided with a customized exercise coaching program from professionals all over the world
Professionals, as supplier of exercise coaching programs, can establish reputation and promote their business and related products.
Extensive data on exercise programs by race, age, stamina, body type, medical history and sports and the actual result of exercise performance can be used for academic, commercial purposes.
Most of existing automatic kinesimeters are built inside the sports equipment, but this technology allows the device to be attached on various equipment to utilize existing infrastructure.
There are many kinesimeters for aerobic exercises using u-health technology, but there are barely any kinesimeters for machine exercises.
Excellence of Technology
Developed a sensor module and a wireless transmission for autonomous weight exercise equipment like dumbbells and machine exercises as well as an application to operate the sensor
Verified the accuracy of the sensor module using the precision measurement equipment, and through the demonstration, successfully conducted an experiment of checking the prescription and execution of exercise real-time

CURRENT INTELLECTUAL PROPERTY RIGHT STATUS
PATENT
Rehabilitation Exercise Managing System and Managing Method Using the Same (KR1510088)
Online Information System for Therapeutic Exercise (KR1570984)
Barbell Exercise Measuring Device (KR1551343)
Barbell for Managing Quantity of Exercise and Exercise Managing System Having the Same (KR1629723)
Tension Measuring Apparatus (KR1673146)
Tension Measuring Apparatus (KR1719573)
Device for Discriminating Dumbbell Exercise and a Method by Using the Same (KR1719572)