Metal Surface Polishing Technology Using Laser
| | |
| --- | --- |
| Division | Busan Machinery Research Center > Department of Industrial Laser Technology |
| Name | Dr. Dongsig Shin |
| Department | Laser Industrial Technology Research Group |
| Tel | +82 - 51 - 310 – 8140 |
| E-mail | dsshin@kimm.re.kr |
| Attachment | Download 160_Metal_Surface_Polishing_Technology_Using_Laser.pdf (1.2 KB) |
Laser polishing technology not bounded by space constraints
Client / Market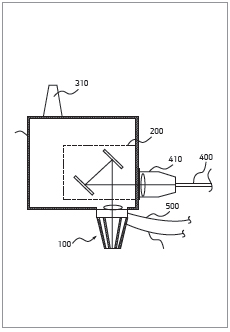 Necessity of this Technology
In the industry, mechanical polishing has been done using powder, but polishing a 3D shape like a die is generally done manually, and it is difficult to perform precisely while also taking a long time-thus a new polishing method of using laser is proposed.
For laser surface melting polishing, the polishing process is done inside the polishing chamber filled with inert gas to prevent oxidation while laser beam is irradiated onto the metal surface; however, the work space is limited depending on the chamber size that the size and movement of the subject of machining is limited; also, a separate device is used to fill the chamber with inert gas.
Technical Differentiation
Laser surface melting polishing process does not require a polishing chamber, therefore is not limited by the work space or the size and movement of specimen.
Metal machining process such as milling and polishing can be done at the same time inside a same machining device-e.g. machining center.
Benefits of laser polishing include precision, flexibility of process, non-contact machining, and the smallest heat-affected zone.
Automation is easier compared to mechanical polishing, and the process time is shorter. It does not require consumables like an abrasive or wheel-therefore less pollutants.
Oxidation prevention gas is sprayed through the nozzle, therefore, without space constraints, various sized materials can be processed, and process reliability is improved through cleaning.
Excellence of Technology
The result of NAK 80 test showed that the surface roughness (Ra) of specimen after milling was 0.40 μm while that of post-laser polishing was as low as 0.18 μm. Regarding roughness before and after laser polishing, after polishing, in the 89,000 Hz, it was shown that the frequency component was reduced compared to pre-polishing, which proved the effectiveness of laser polishing.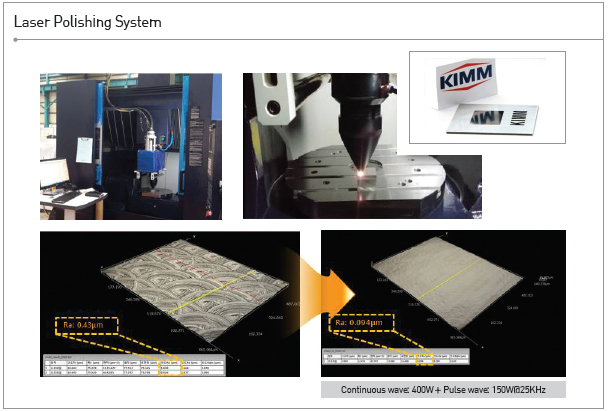 CURRENT INTELLECTUAL PROPERTY RIGHT STATUS
PATENT
Metal Surface Polishing Method Using Laser (KR1358332)
Laser Machining Device Using Bellows (KR1425410)
Laser Optical Head (KR1469645)
Optical Head for Laser Machining (KR1517602)
KNOW-HOW
Laser scanner and CNC-linked machining technology
Interface technology between laser and CNC
Laser-polished surface luminance measurement and FFT analysis